The 22nd Annual BareBones Halloween Outdoor Puppet Extravaganza
Co-Directors:
Mina Leierwood
Madeline Helling
October 24, 25, 29, 30, 31 · 2015
W

e come together to grieve, to collaborate, to create and to grapple with what lies heavy in our hearts. This year has felt heavy with the passing of too many, too soon, too young. We seek to hold a space for our beloved now gone as well as the unknown dead.

We sing, we dance, we play, we blend, build, focus. We combine many different visions and voices together to create something far larger than any one of us could express alone. It is a great honor to work amid this supportive, creative BareBones community. Infinite thanks to the Mississippi River Valley and all ye wild creators who make this show a ritual, extravaganza and labor of love.

We All Fall Down opens with joyful play. Seeing such play as an opportunity, profit hungry roaches entice the players with fancy uniforms and a fiery force of rules and regulations. An ostentatious monarch sponsors the creation of an obscene stadium, summoning the giants. The play escalates into a gruesome game, a spectacle of pomp and circumstance broadcast for all. But in the heat of battle, a serpentine force of earthly energy causes the players and the structure to tremble and fall to the ground.

Roaches scuttle and kick about the rubble. Carrion beetles explore a body that has fallen into their lair. The unnerving, yet natural process of decomposition unveils. Majestic life endures underground as a web of mycelium expands and forms fruiting bodies. Creepy crawlies shed their skin, leaving ghostly exoskeletons. We hold to the skin like a memory, allow it to breathe, and release it into the infinite. The wheel of the seasons turns, ever chasing its tail.

Thank you for being a part of the 2015 BareBones Halloween Extravaganza.

Love and Gratitude,
Mina Leierwood and Madeline Helling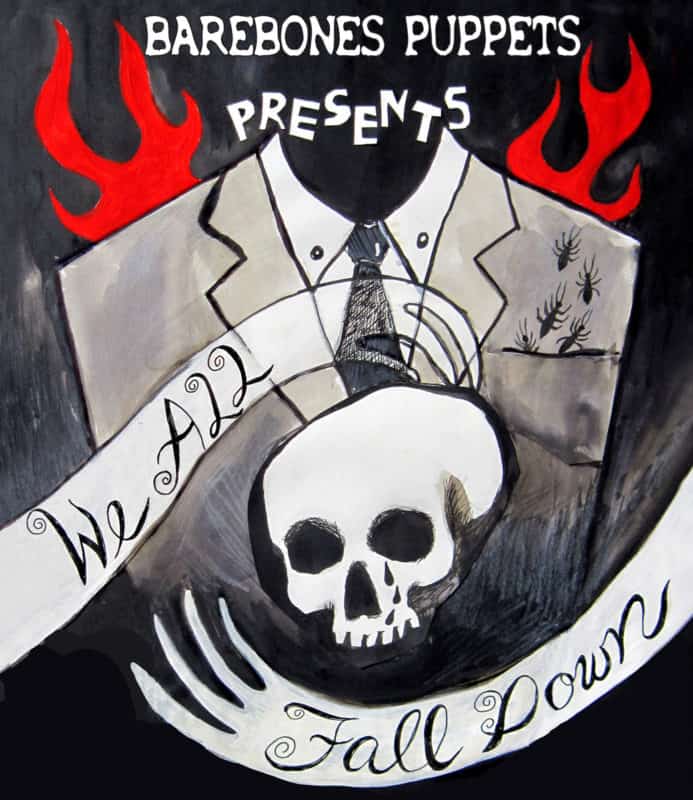 You who let yourselves feel: enter the breathing
that is more than your own.
Let it brush your cheeks
as it divides and rejoins beside you.
Blessed ones, whole ones,
you where the heart begins:
You are the bow that shoots the arrows
and you are the target.
Fear not the pain. Let its weight fall back
into the earth;
for heavy are the mountains, heavy the seas.
The trees you planted in childhood have grown
too heavy. You cannot bring them along.
Give yourselves to the air, to what you cannot hold.
~Rainer Maria Rilke
excerpt from In Praise of Mortality
A Roar of "Thank You All!"
To the following 255 known volunteers, staff, collaborators, and supporters of all kinds, plus another dozen or two unable-to-get-named excellent others who all helped to create this remarkable 2015 Halloween Outdoor Puppet Extravaganza:
Akiko, Alan Olsen, Alicia Dvorak, Alicia Herman, Alisa Hoven, Allen Christian, Alley Maki, Allyah, Alondra Cano, Amy Taylor, Amy Troxel, Amy, Ana Laura Juarez, Andrea Steudel, Andrew Kersten, Andrew Bendzick, Andy Fischer, Angela Brewer, Angie Courchaine, Anna Horner, Anna Johnson, Anna Ruhland, Anna Schmitz, Annie Spiro, Anwen Taber-Buley, Arameni Cano, Arwen Wilder, Asa Cottrell, Asher Edes, Autumn Cunningham, Avram Leierwood, Barbara Etzkorn, Barbara Peterson, Brandon Sisneroz, Brent Harring, Brian BrugiOni, Brian Skalak, Bruce Blacher, Caitlin, Calder Alspach, Caspian Wirth, Celia, Chelsea Parker, Christie, Christine Novoty, Christine Retkwa, Colleen Kary, Cosette, Cyrus Aide, Dana Baird, Daniel Polnau, Deanne Parks, Debra Larsson, Delilah Nelson, Donna Sellinger, Douglas Saldaña, Duane Tougas, Ea Eckwall, Eddy Wilburs, Eleanor , Eleanor Sampson, Elie Blaise, Elle Thoni, Ellen, Emily Lippold Cheney, Emily Orvik, Eric Altenberg, Eric Hofstad, Erik Riese, Erin Belfry, Eriq Nelson, Ewart Martens, Flora, Gaea Dill-D'ascoli, Gary Hover, Gillian Martin, Giuliana Ciabo, Grace Hanson, Grace, Greg Carr, Greg Leierwood, Greta Gaard, Gretchen Carlyle, Gustavo Boada, Hadley Musselman, Haley Ryan, Hannah Mississippi, Hayden Lintner, Heather Hinrichsen, Heather Matson, Heidi Eckwall, Huck Stoike, Hunter, Ilana Percher, Isabel, Itzuri Cano, Jacob Carrigan, Jacob Miller, Jami Viergest, Jan Elftmann, Jc Johnson-Becker, Jeff Adams, Jeff Weaver, Jeong Ae Neal, Jessa Felkins, Jesse Pollock-Foote, Jessica Hanson, Jessica Cram, Jim Parker, Joe Bridge, Joel Swearingen, Johanna Huber, John Alspach, Joseph Solinsky, Josie Beck, Judd Rappe, Julian Mcfaul, Julie Jao, Justin Schaude, Justine, Karen Haselmann, Kari Rightfoot, Karrie Cooling, Katie Capistrant, Katy Ficarra, Kay Clay, Kenneth Riveia, Kerry Parker, Kelly Ramar, Kim Galloway, Kim Keen, Kimberly Shelton, Kimojo Moujou Emeka, Krista Pearson, Kristi Ternes, Kristin Freya, Kurt Seaberg, Laura Euller, Laura Korynta, Laurel Chapman, Lauren Patridge, Laurie Helling, Leah Peitso, LeWis Mundt, Li Zi, Liberty, Liesl Wolf, Lisa Carlson, Lisa Novak, Liz Mazlish, Liz Zinsli, Lola Picayo, Lora Johnson, Madeline Helling, Maedya Kojis, Maren Daniels, Marian Eichinger, Marian Lucas, Mark Safford, Mary Kjella, Mary Jane Lavigne, Mary Jo Nikolai, Maryanna Harstad, Matthea Fenelon, Mavis Evans-Parker, Max Haynes, Maya Lemon, Meera Safford-Pearson, Mel Beaux, Mel Wishart, Melody Cordes-Eklund, Mia, Mike Huber, Mina Leierwood, Mollie Siebert, Molly Elwood, Molly O'connor, Munir Kahar, Nadia Nik, NAte Giles, Nell Nere, Nevaeh, Nickey Robare, Nicolas Boisbouvier, Nik Nik, Nina Eagin, Oliv, Oliver Rivera, Olli Johnson, Pasha May Milbraith, Patty Gille, Peter Schulze, Peter Schulze, Peter Thomas, Rachel Lindgren, Rah Diavola, Rain, Rami Sazkalz, Ranjit Menon, Rebecca Kelly, Rebekah Rentzel, Reggie Neal, Richard Parnell , Rio, Rio Mississippi, Rob Czernik, Robyn Char, Rosie Jablonsky, Rowan Rouillard, Rowan Taber-Locey, Ry Chandler, Sadye Osterloh, Salina, Sam Ferree, Samantha , Sarah Chapman, Sarah EngEn, Sarah Hanson, Sarah Larsson, Sarah Rusch, Sarah Rusch, Scott Morris, Scottie Hall, Shannon Mcgraw, Simone, Song, Sonja Kuftinec, Sophia , Sophie Nikitas, Stacia Major, Star Walker, Starri Heges, Steph Jablonsky, Sula, Tara Fahey, Tara Fahey, Taylor Rivera, Thea Evans, Tina Decker, Tj O'connor, Tobias Op, Tom Carlson, Tom Pierson, Tony Chapin, Tony Biele, Tracey Lapointe, Ulli Eckwall, Venus Demars, Waffle, West Alspach, Woody Kaine, Yaxkin Cano, Yurei, Joanne Horner, Mary Hunter, Dan Hunter, PatricK Strauss.
Thank You Very Special Donors!!
BareBones warmly thanks the following very special donors who graciously responded to our annual appeal for support of the Halloween Extravaganza in advance of the show. These key donations were received before opening night in time to be acknowledged here and represent a shared faith in the exuberance of community theater, the common good of public art, and the value of community when the days grow short, the nights grow long, and we miss the ones who are no longer with us.
Lisa Carlson, Joseph Guiney, Anne Sawyer, Bread and Puppet Theater, Frank and Raquel Wood, Thomas Helling, Janis Olson, Steve and Christine Clemens, Ewart Martins, Frank and Barbara Safford, Carey Heartbourne, David Hoyt and Christine Gamm, Sandra Spieler, Richard Parnell, Katherine Johnson, Waren Park, Deb Ervin, Emily Anderson, Carol and Dave Hove, Micheal Sommers and Susan Haas, Jean Garbarini, Bruce Ohnstad, Steve and Becky Kismohr.
Special Gift Recognition
For many years, two remarkably generous donors have given a major financial gift each Fall to support BareBones' Annual Halloween Outdoor Puppet Extravaganza. We truly honor Joan and Frank (Pancho) Safford of Evanston, Illinois, for their selfless support of outdoor spectacle performance in the Twin Cities. Thank You Joan and Pancho!
Special thanks to the following collaborating, cooperating, and supporting organizations and key individuals who helped make possible the 2015 Halloween Extravaganza
Acroyoga Mpls
Bedlam Theatre, Minneapolis (Lighting & Sound Equipment On-Loan)
Brass Messengers (Audience Reception Band)
Bread and Puppet
Center for Moving Cultures
Chicks on Sticks
City of St. Paul, Dept of Safety & Inspections (Fireworks Display Permit, Bonfire Permit, Building Permit)
City of St. Paul, Division of Parks & Recreation (Large Event Permit, Security Arrangements, Site Logistics, Special Arrangements)
City of St. Paul, Police Department, Community Services Division (Block Party & Community Festival Permit, Volunteer Uniformed SPPD Traffic Officers, Contract Off-Duty SPPD Uniformed Officers)
CrankArt Collective
First-Aid Tent
Heart of the Beast Theater
Hiawatha Reddy Rents, Minneapolis (Truck Rental)
Jack Brass Band (Audience Reception Band)
Kultur Klub Collaboration
North Star Media (Tabloid Program Printing)
Mark Kalrlile (Aerialist and Effects Equipment & Rigging)
Merchandise Tent
Midway Party Rental, St. Paul (EZ-Up Shelter Rental)
Minnesota Conway Fire & Safety, St. Paul (Fire Extinguishers On-Loan)
On Site Sanitation, St. Paul (Portolet Rental)
PolsFussianPictures
Recovery Bikes
Propolis Southside Mpls Bees
Quality Propane, Burnsville (Music Tent Heater)
Sex Geekdom Twin Cities
Seward Café
Seward Co-op
Sisters' Camelot, Minneapolis (Build Space, Cast & Crew Kitchen Space, Audience Reception Catering)
Smart Set Inc. (Postcards and Posters)
Southside Family School
The Big Blue Box, Minneapolis (Container Rental)
The Morse Agency, Minneapolis (Non-Profit Liability and Umbrella Liability Insurance Policies and Certificates)
The Soap Factory's Haunted Basement
Venus Band (Audience Reception Band)