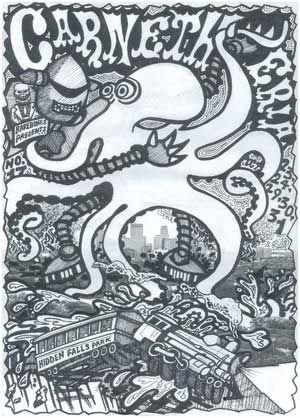 2010 – Carnetheria
The Seventeenth Annual BareBones Halloween Outdoor Puppet Extravaganza
Co-Directed by
Mark Safford & Andrew Wagner
Poster Art by Barry Newman
October 23, 24, 29, 30, 31, 2010
Carnetheria was based on concerns that the use of technology and energy without consideration of the possible consequences is causing irrevocable damage, not only to the planet, but to our very humanity, and is inspired by Ray Bradbury's novel, Something Wicked This Way Comes. Carnetheria is an allegorical tale wherein a mysterious Carnival represents the world and we are tempted to exploit its vast resources for temporary satiation of our desires for comfort and security. At the same time, we acknowledge that through transformation and acceptance of the transitory nature of reality, healing is possible.
A mighty big shout of "Thanks!" to the following 227 known Puppeteers, Organizers, Artists, Builders, Carpenters, Musicians, Directors, Stilters, Coordinators, Fire Performers, Technicians, Choreographers, Painters, Videographers, Aerialists, Ushers, Editors, Cooks, Parking Attendants, Visiting Artists, Photographers, Fundraisers, Papier-Mache "Engineers", Stage Hands, Board Members, and Helpers of all kinds, plus a couple dozen unable-to-get-named Excellent Others who all helped to create this remarkable 2010 Halloween Outdoor Puppet Extravaganza:
Alex, Amelia, Andie, Autumn, Colleen, Charlotte, Dylan, Eben, Eddie, Elise, Heather, Jeffrey, Julie, Kelly, Lela, Lindsey, Lucy, Luke, Madeline, Mara, Marcus, Marcy, Naomi, Nanette, Paul, Rachel, Riva, Rocky, Rob, Ryan, Sage, Sarah, Sarah, Serena, Tick, Waffle, Walter, Xaric, Christopher Allen, Nicole Amaris, Emily Anderson, Alicia Banks, Jamie Barber, Corrie Bastian, Jess Becker, Jackie Beckey, Chris Becknell, Erin Belfry, Andrew Bendzick, Roberta Benson, Tony Biele, Justin Boeke, Angela Brewer, Riche Brick, Kari Buckvold, Calvin Burgstahler, Betsy Burr, Elizabeth Cain, Ricky Campion, Aaron Cantine, Jen Cantine, Jessica Chamberlain, Kim Christianson, Brady Clark, Radia Clark, Nicolas Collard, Federica Collina, Leigh Combs, Adam Cook, Willow Cordes-Ecklund, Kevin Cosgrove, Angie Courchaine, Joe Cypher, Brently M Davis, Jon Davis, Zander Davis, Anna Dedabo, Becky Dernbach, Trang Do, Cara Dodge, Mitchell Dose, Christopher Duba, Ila Duntemann, Alicia Dvorak, Ea Eckwall, Heidi Eckwall, Ben Egerman, Deb Ervin, Tara Fahey, Amanda Fenlason, Don Fischer, Christiana (Yana) Frank, David Freelove, Katie Fritz, Mary Fulton, Cully Gallagher, Rosa Garcia, Charlie Garetz, Anna Goldammer, Renee Goneau, Kat Gordon, Zoe Gordon, Gina Gruenbeil, Chad Guerrero, Jayme Halbritter, Scottie Hall, Willow (Teri) Halonen, Brent Harring, Bryce Harring, Maryanna Harstad, Karen Haselman, Starri Hedges, Ron Heiner, David Heitzman, Chris Hepola, Jason Hicks, Soozin Hirschmugl, Eric Hofstad, Chloe Hollister-LaPointe, Willow Hollister-LaPointe, Sam Homan, David Hoyt, Xena Huff, Kimberlee Hunter, Emmet Hurley, Julian Hyde, Brian Ioni, Rosie Jablonsky, Jennifer Johanneson, Ethan Johnson, Oliver Jones, Munir Kahar, Lindsey Keating-Moore, Andy Kedl, Tynan Kerr, Jonathan Kennedy, Jen Kinney, Cecilia Klein, Sarah Klein, Ian Knodel, Charlie Koecher, Charlie Koecher, Maedya Kojis, Rah Kojis, Jim Koplin, Josephine Krawec, Tracey LaPointe, Greg Leierwood, Mina Leierwood, Nick Lethert, Shira Levenson, Erinn Liebhard, Claire Lindsay-McGinn, Jaz Lohman, Mike (Camo) Lohman, Kevin Long, Alex Lundberg, Don Mabley-Allen, Angela Maki Jones, Lindsay McCaw, Julian McFaul, Sharon Meister, Anna Michalke, Paul Michalke, Matthew Miller, Stephanie Molstad, Ian Moore, Henry Montplaisir, Arielah Moskow, MJ Mueller, Rachel Nelson, Nell Nere, Barry Newman, Clive North, Nick Ochs, Alan Olson, August Patience, Nick Pawlowski, Albert Perez, Barbara Peterson, Juliana Peterson, Jack Phillips, Daniel Polnau, Eric Raven, Tina Raven, Hannah Rivenburgh, Rachel Roling, Ben Ruby, Mark Safford, Douglas Saldana, Soma Samadhi, Etta Sandry, Alli Schorn, Mark Schultz, Peter Schulze, Kurt Seaberg, Kait Sergenian, Lindy Sexton, Kristen Shaw, Noah Simcox, Sean Smuda, Violet Soule-Fahey, Davey Steinman, Huckleberry Stoike, Gretchen Strobel, Natalie Taber, Emily Tate, Amy Taylor, Emily May Taylor, Dakota Temte, Shawna Tesla, Brock Thompson, Cyndre Thourn, Stefan Thust, Nick Tousley, Kat Townsend, Karina Utter, Julia Van Horn, Jami Viergets, Andrew Wagner, Beth Wagner, Maren Ward, Jenn Welna, Arwen Wilder, Inga Wing, Nick Zarate Kneen, Forrest Zoll
Audience Comments about Carnetheria
"Thank you for showing us all that it is possible to live life as if it were a song. I love what you do. And it is inspirational to others." –Corrine J, Minneapolis, 11/05/10 via the Halloween Tabloid

"Dear BareBones Crew: I made it to my first BareBones show last year – The Red Riding Hood/Metamorphosis "Devoured" – I was moved, I was touched, I was amazed! This year there were thrills, chills, and fun, but I couldn't pin down any coherent theme. I did enjoy the opening carnival – the black box musicians and a very young lady fortune teller were my favorites. The Ghost Train made a great dramatic entrance, but in the Main Act, I felt lost at sea. I was intrigued by Lord Dark, his giant chained spectre, the wasps and killer robots were kickass, but by the end I felt worn out from all the W.T.F.? Moments: Campbell's Soup kids – huh? Dancing cupcakes? Killer robots? Squid??? That's too many disparate elements to throw in without a central story-theme to riff off of, like Red Riding Hood, a story we all know, or think we do. I guess it does work as a political metaphor: We search for meaning and get bread and circuses instead, offered by those in authority. "Carnival" is even a powerful metaphor. . . and it was worth experiencing as pure spectacle." –R.S., Minneapolis, 11/03/10 via the Halloween Tabloid

"Wow! This was our first performance we have attended by BareBones, and we already plan to make it a yearly tradition. The energy felt by the performers, as well as by the audience was astounding. This is exactly the performance that every community needs; a place to come together to celebrate life, love and creativity! We were more than happy to contribute to the 'pumpkins' after the event! (The music was incredible! Do we have to wait until next year to see it on CD?) Kudos as well to Sisters' Camelot for amazing food, and Brass Messengers for exceptional music! Well played everyone! Thank you! (I think we are coming again next weekend.)
" –B, St. Paul, 11/01/10 via the Halloween Tabloid

"I was most impressed with Saturday night's show.  Without having read the handout and being seated on the last row of bales it was difficult to see, but the choice of music with characters' action told the story and was well done."  –Wade  10/31/10

"I joined in your Halloween celebration on Saturday night with a group of neighbors.  I am writing because I personally want to thank each and every person in your organization for the INSPIRATIONAL MAGIC you created and shared with every human who attended the gathering.  On the same day that Jon Stewart and Stephen Colbert staged their Rally to Restore Sanity extravaganza in Washington D.C., your theatre group restored Sanity in the Twin Cities by actively engaging people of ALL AGES and allowing them to participate in a creative brilliancy that was engaging, inspiring and out of this world.  I left the event feeling more committed to my family, neighbors, community and the Earth and I left motivated to become more active in causes that benefit my community, humanity and all of the Earth's creatures and ecosystems.  What an extraordinary vision, spirit and gift your theatre group has shared with fellow Twin Cities citizens.  From the bottom of my heart and soul… Thank you all… Sincerely"  –Leslie K  10/31/10

"Just wanted to drop you a note of thanks–  . . . . I saw the show this year and was somewhat confused but had a great time (i even managed to get a couple of decent photos– I am told you are looking for pics for an archive?) Got the DVDs too!"  –Paul R  10/30/10

"Thanks for another beautiful and moving Halloween show. This time of year so often gets buried under candy hoarding and acting out, but your work urges us to slow down, to reflect on transience, cycles, the waning of the year, and things worthwhile. You're consistently my favorite part of the season.  Good luck with this weekend's shows," –Michael P  10/25/10

"Our family attended and really enjoyed this years extravaganza last Saturday. Thank you for providing spectacular events year after year. We love making this a tradition.  We also loved the brass band afterwards. . . . " –John M, Minneapolis  10/25/10

"This year was my third show. . . . Every year is a great new experience but I think what I love the most is the calling out the names of the dead. For me, there is such a deep invocation of what was, what is, and what could have been. Thank you for pronouncing all of your ideas out loud and in such a beautiful way!" –Randy B 10/25/10

"This was our first year attending your performance and if you were to ask me to exemplify the heart of St. Paul; I'd point to this production! The community, generosity, appreciation and energy among the staff, volunteers, performers and audience participants was infectious and we are incredibly excited to make this an annual event for our family. . . . Thank you.  Continue the great work!" –Ryan  10/25/10

"I love your shows and my friends and I have been going for the last ten years.. But something isn't right this year… Where was the beauty? the animals? the spirit? the depth? it's denuded.. who's in charge this year?? please.. don't do this.. don't kill barebones!!!"  –Brian 10/24/10
Have a memory you'd like to share about this show? Use the comments box below. If you were involved in this production, but don't see your name and would like it listed, send us a message from our Contact page. Thanks!