Artists Respond to the Mourning, Grieving and Fires on Lake Street
Explore OFFERINGS From Home
This past Halloween, 40 artists had activated more than 30 outdoor pop-up artworks on Lake St. Their offerings held space for death, loss, grief, ancestors, and remembering that centered on Lake St and its current changes. We're committed to connecting you to this space and sense of community by sharing this online collection. Delve into the videos, photos and stories behind the 33 art works.
Facilitated by Lelis Brito and Harry Waters Jr., OFFERINGS delivers in 2020 a deeply collaborative take on the BareBones annual extravaganza. Read their message.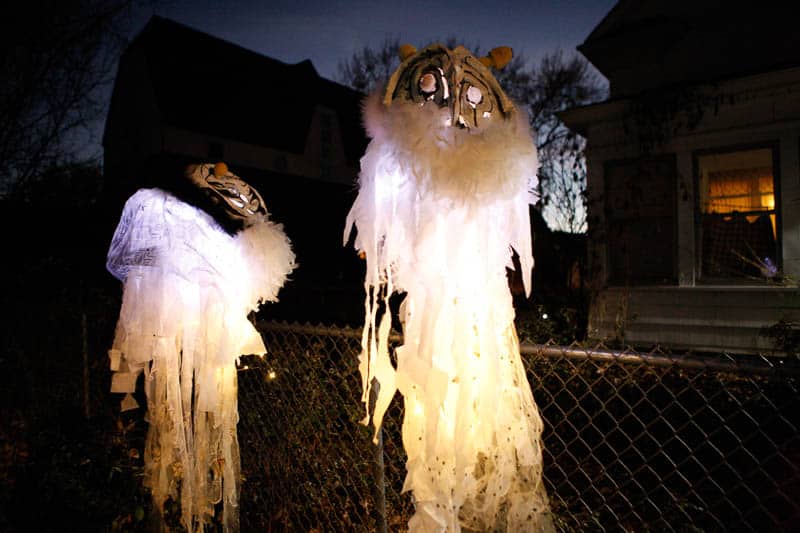 Spirit Lantern Puppets
Puppets resembling jellyfish give space to all the dead including all those murdered by injustice.
BareBones 2020 T-Shirt Designs by Artists
Many thanks to our partner organizations that have contributed resources to the 2020 project including Teatro del Pueblo, Indigenous Roots Arts Center, R.A.R.E House, Ingebretsen, MIGIZI Communications, Club Cuernavaca-Axochiapan-Morelos, Latinas y Latinos Unidos por la Cultura y el Arte, and Pangea World Theater.
.
This activity is made possible by the voters of Minnesota through a grant from the Metropolitan Regional Arts Council, thanks to a legislative appropriation from the arts and cultural heritage fund. Additional support this year has been provided by Compas and the Safford Family as well as contributions by our greater BareBones community over the years.