BONESEED: Mist Stories
The 25th Annual BareBones Halloween Puppet Extravaganza
Hidden Falls Regional Park, North Gate · 1305 So Mississippi River Blvd, St. Paul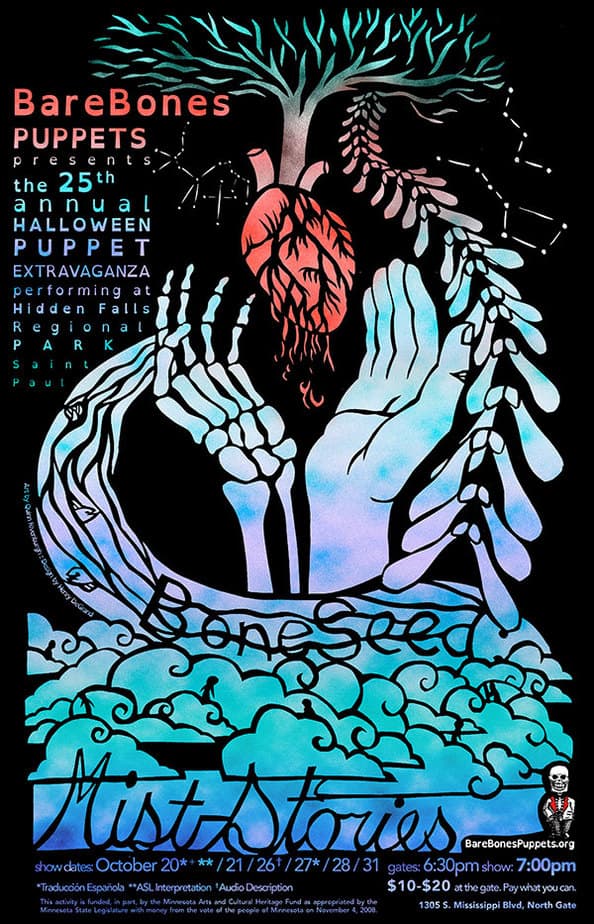 Tonight!
Halloween Show dates:
Saturday, October 20 · with ASL and Spanish interpretation
Sunday, October 21
Friday, October 26 · with Audio Description
Saturday, October 27 · with Spanish interpretation
Sunday, October 28
Wednesday, October 31
Language Accessibility in English, Spanish, and ASL
Show time 7pm · Gate opens at 6:30.
$10-20 suggested donation at the gate.
Limited straw bale seating available. Bringing blankets or chairs is encouraged.
Accessible seating available.
Reception after the show with free hot food provided by Sisters' Camelot, and live music.
BareBones swag will be available for purchase!
We HIGHLY recommend biking, taking the bus, carpooling — anything other than driving!
Bus routes # 23, 46, 70 + 74 are nearby on Ford Pkwy & Cleveland.
If you must drive, please note that only carpooling cars will be let down the hill into the parking lot.
Accessible parking is available in the parking lot.
Bonus! Get a free BareBones spoke card when you bike!
Please join BareBones Productions in celebrating 25 years of community engagement.
BONESEED: Mist Stories hearkens back to our primordial ancestors for a show that delivers mystery, visual brilliance and familial story-telling. The audience will be mesmerized by the story of the Earth's ancestor's life and death. The show will peel away at the wounds of intergenerational trauma while revealing remedies to heal pain.
BONESEED will unravel the trials of migration and colonization by recognizing ancestors who left their homelands by choice, necessity, or by force. The story will tap in to the power of a chosen family, how we form kin through shared pain, struggle and work by using our own agency.